Here are the winners of the 3rd Anniversary Giveaway Event!
2023.11.08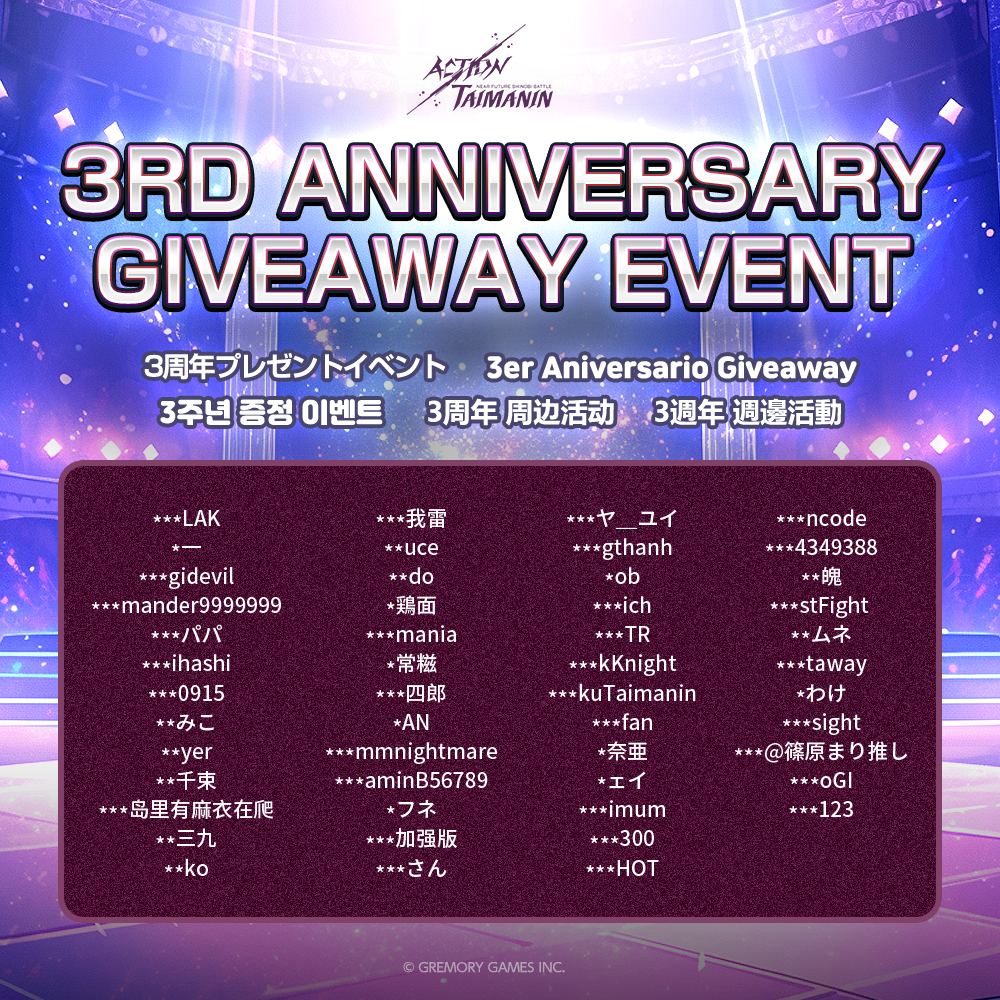 Thank you to all Commanders who took part in the 3rd Anniversary Giveaway Event!
The entire Action Taimanin team was touched by your honest and heartwarming comments.
We will continue to give you the best gameplay experience in the future!
Thank you once again to all of you for making our 3rd Anniversary the best one ever.
All winners have been sent an e-mail.
If there's a winner who did not receive the e-mail from us, please feel free to contact us via support@gremorygames.com.
※IMPORTANT: IF YOU DO NOT SUBMIT THE FORM WE SENT YOU VIA E-MAIL BY 2023.11.14 15:00 (UTC),
THE PRIZE WILL BE GIVEN TO ANOTHER WINNER.
The following is the list of all the winners.
***LAK
*一
***gidevil
***mander9999999
***パパ
***ihashi
***0915
**みこ
**yer
**千束
***岛里有麻衣在爬
**三九
**ko
***我雷
**uce
**do
*鶏面
***mania
*常糍
***四郎
*AN
***mmnightmare
***aminB56789
*フネ
***加强版
***さん
***ヤ_ユイ
***gthanh
*ob
***ich
***TR
***kKnight
***kuTaimanin
***fan
*奈亜
*ェイ
***imum
***300
***HOT
***ncode
***4349388
**魄
***stFight
**ムネ
***taway
*わけ
***sight
***@篠原まり推し
***oGI
***123
The event rewards will be sent at the end of November in order